Reading Time:
3
minutes
Manufacturing is changing
Manufacturers are under continuous pressure to produce high-quality products, cost-effectively, and in the time that customers demand. The degree to which a manufacturer satisfies customer expectations determines their success in the local and even global market. In order to maintain and grow the business, manufacturing decision-makers should consider an information management system that integrates business needs with the manufacturing process.
In addition to demanding market requirements, manufacturers are also having to contend with the emergence of the Industry 4.0 and Smart Manufacturing revolutions. These new developments in manufacturing are characterized by four major technologies.
Advanced engineering (e.g., additive manufacturing)
Connectivity, data, and computational power
Automation and robotics
Artificial intelligence and analytics
While all this technology can sound daunting, and impossibly complex and costly for many manufacturers, there are solutions available today that can be used to start a business on the road to a modern manufacturing environment. These solutions provide end-to-end management of manufacturing processes to ensure efficiency and effectiveness and can enable manufacturing transformation – from the plant floor to the warehouse, to product quality and material flow throughout the entire business value chain.
Manufacturing challenges
The bulk of the assets in manufacturing organizations – capital invested, people employed, and management time – are in the operations side of the business. Manufacturing managers get attention from senior executives when things go wrong with these assets. When things are operating smoothly, they are almost invisible. Manufacturing resources have to be deployed, coordinated and managed in such a way that they help the company do what it wants to do without wasting resources.
Common challenges faced by manufacturers include how to:
Increase production efficiency across all plant locations from the management floor to the shop floor while also reducing costs.
Achieve real-time visibility of supply chain, order management, and production operations across all manufacturing locations.
Maintain quality as a core part of production at each plant contributing to overall quality goals, instead of allowing it to be a siloed function.
Accelerate new products through the production and supply chain without compromising on quality.
Collect and analyze data at the machine, function, and plant level to improve management and reporting, and make planning more accurate.
How MOM helps
Manufacturing Operations Management (MOM) is a software solution for managing end-to-end manufacturing processes to optimize planning, scheduling, and operations, and control quality and costs.
With MOM, manufacturers are much more able to:
Provide the right information to the right people at the right time to make better decisions about every aspect of manufacturing, including advanced planning, production capacity analysis, Work-in-Process (WIP), and inventory.
Get a single, enterprise-wide system of record to manage the interdependencies within production to optimize processes and enable greater collaboration.
Obtain a "single version of the truth" that eliminates silos of information and operations enabling better overall information to manage disparate manufacturing processes.
Meet goals for reducing waste, optimize inventory, and reduce throughput time to improve efficiency, quality, and customer satisfaction.
Implement continuous improvement in manufacturing operations.
Monitor quality and regulatory compliance at the enterprise level instead of at isolated, individual locations.
Sadly, many companies continue to rely on less efficient but more familiar manual approaches. However, manual approaches are often inconsistent and isolated. These approaches cannot effectively manage all the factors that manufacturing managers have to oversee, such as:
Work in Process (WIP)
Inventory optimization
Scheduling
Dispatch
Engineering change orders
Manufacturing process flow
It's even harder when managers need to do this across multiple plants.
Effective implementation of a MOM solution is becoming necessary for any manufacturing company to survive.
10 benefits of MOM
MOM helps manufacturers in many ways.
Complete shop-floor visibility and control
Control labor and machine costs
Reduction of wastage
Reduce downtime and bottlenecks
Optimize operational efficiency and profitability
Real-time data collection
Reduce repetitive manual work
Compliance with documentation and standards
Tighter integration of manufacturing with other business functions
Accurate and timely production analytics, available on any device
There's another benefit that modern MOM software allows – the ability to move your business to the cloud. For manufacturing, in particular, a cloud solution can be useful for fast data access from the receiving department to plant floors, warehouses, and shipping yards.
Where MOM fits in
A MOM solution provides the operational information that a business requires about plant floor operations, but it needs to be integrated with information from the rest of the organization to get the maximum benefit. That's where an ERP system comes in. An ERP system provides inventory management, Bill of Materials, accounting function, supply chain visibility, and traceability, as well as other capabilities that modern businesses need.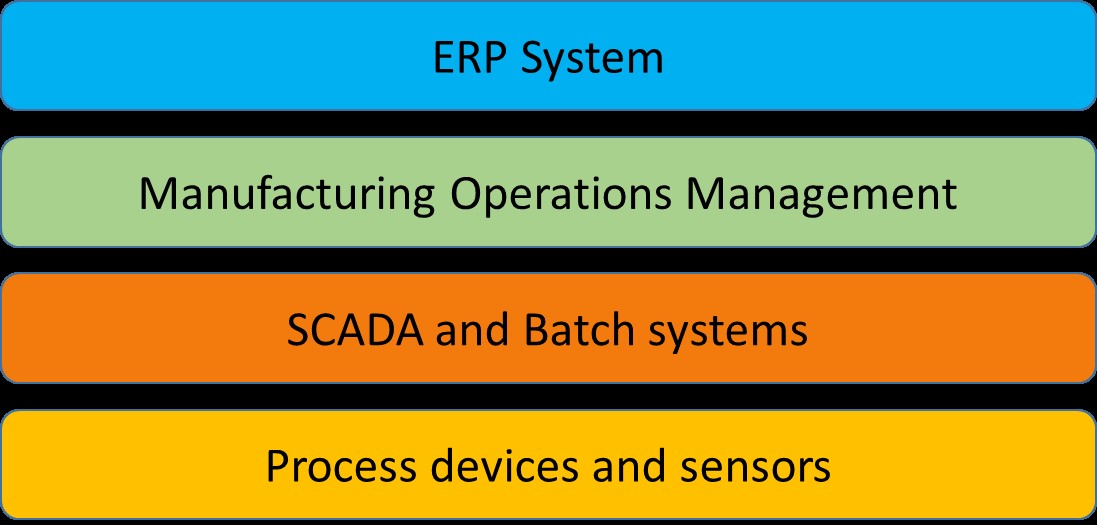 Manufacturing systems hierarchy
A good MOM is one that combines all production processes to enhance quality management, control costs, assist in advanced planning and scheduling activities, and boost operational excellence.